Twitter
Facebook
Myspace
Blog
Wikipedia
---
Recordings

Axis of Weasel
Many people - including several band members - were hoping that this was the final Weasel record.
---

Uranus or Bust
An exploration of the the outer limits of the galaxy known as Good Taste.
---

Leon's Mystical Head
A four-day recording marathon in 1995 gave rise to animosities that still exist today.
---


Fondue Cabaret
The first Weasel album met with critical acclaim, and brisk sales followed. Not.
---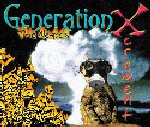 GenerationXcrement
Alternative takes and obscure songs and performances. Not that anyone was asking.
Mustella Furioso Presents
Also Sprach Larrythustra
The Weasels are pleased to announce the completion of their seventh studio album, Also Sprach Larrythustra, soon to be available in fine record stores nowhere. In the meantime please enjoy these preview videos.
*****
Spin

Resistance is futile
*****
Ding Ding
Now is that a real poncho or is that a sears poncho?
*****
Where is the Polar Bear
He's over there, in the snow.
*****
Diamond Blue Gremlin
Nobody wants to be here and nobody wants to leave.

*****
Saffron Nearly
Feeling all right. Not feeling too good myself.
*****
Mustella Furioso Presents
AARP Go The Weasels
The Weasels are pleased to announce the release of their sixth studio album, AARP Go the Weasels, on Valentine's Day, 2-14-13. Comprising 15 tunes and nearly 80 minutes of original material, the CD is the band's first release since the critically acclaimed Axis of Weasel in 2006.
AARP was recorded at Blue Sky Studios in Delmar and features Capital District luminaries Chuck D'aloia, Al Kash, John Cohen, Adrian Cohen, Mike Kelley, and Brian Patenaude, amongst others. For more detail you can read the full