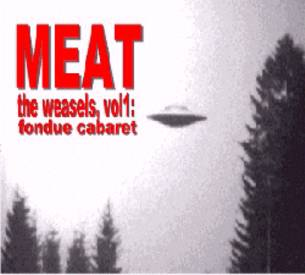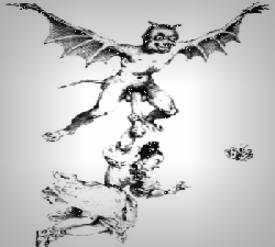 J Cohen, bass, slide whistle; D Fun, vox, sax; C Graf, keys, vox, trumpet; D Maynard, guitar;
R Petrocelli, drums; R Weasell, guitar, vox, trombone.
Recorded in 1992,
Meat Vol. 1: FONDUE CABARET
achieved critical acclaim and brisk sales, where acclaim and brisk are loosely defined.
FONDUE CABARET
includes
and these other favorites:
Let the Killing Begin: features H Lee Lucas explaining how "sexual intercourse with the dead just became a part of my life."
Amway Man: The true story of the time some mullethead tried to interest a band member in network marketing. Fun was out of his mind on mescaline at the time though, and just started laughing.
Red Meat: Like many of the early tunes ... in fact, damn it! ... like almost all of them, this song is based on a blues progression; the opening line, "This is not a sushi bar," quotes a sign on a bar wall in an episode of The Rockford Files.
Might As Well Try Ewe: A song butchered so badly in its only performance that it was immediately dropped from our live repertoire; we renounced gigging shortly thereafter. Nevertheless a favorite that begs to be rerecorded using modern gadgetry.
Plastic Plant: By all accounts one of the stupidest and most base tunes we've ever recorded, which is saying a lot.
Dancing On Your Grave: What Howlin' Wolf would have sounded like if he'd gone to Berkeley School of Music, dropped out after a year to go on the road with Murph and The Magic Tones, and continued to do blues gigs on the side. Appalling isn't it!
Have A Nice Day: This set a new standard for lyrical blasphemy. Even Fun's offended by it. Nice music though; nice guitar by Maynard.
Never Been To Jersey: Either a lampoon of over-anxious Springsteen fans or an aural inquiry into the hypothetical effects of lysergic acid on Hoyt Axton. Nobody's quite sure. Stupid lounge filler music.
Maybe You're Dead: More blues. Another true story.
Take a Picture of My Brain: In some minds Brain is the best song of the lot. The first Weaselsong to use SWOT (Standard Weasel Open Tuning , Dmaj7 if you're scoring at home).
When the Fat Lady Sings: The stupidest interpretation of King Lear you'll ever come across that doesn't star Robin Williams as Cordelia.
Little Town Ashtray Disaster: How did George Harrison put it: "I was subconsciously influenced, do doo run run, do doo run run."